Our Partnership with FareShare
FareShare Partnership – Helping to Reduce Waste
From board-level to warehouse floor, we recognise the effects that our operations have on the environment around us.
Therefore, we not only operate our business responsibly, but we extend this further to our customers, collaborating with them to understand how we can cut our environmental impact in the long term.
We knew that a number of our customers wanted to make better use of their surplus product and help their local communities but didn't know how to get started. So after listening to their feedback, we responded by partnering with food redistribution charity FareShare.
Making a Difference
FareShare distributes donated surplus food to charities across the country to be made into healthy meals for those that need it most, from homeless shelters to youth clubs. This allowed us to deliver a service that was efficient for our customers and benefited the charities that FareShare works with.
The partnership began in September 2016 and consists of us collecting surplus food from our customers that are looking to reduce their food waste by donating surplus product to good causes.
The collections take place alongside the customer's usual delivery, which means they can reduce their food waste and make a difference to their local community without adding to the workload.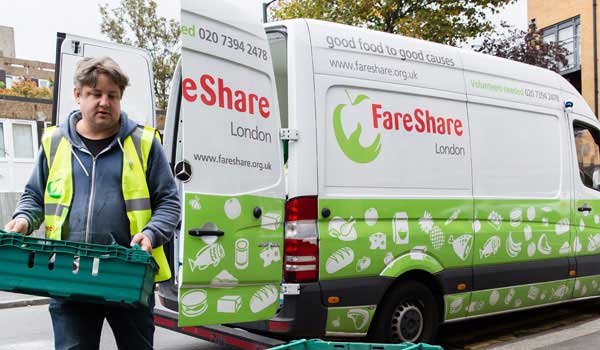 With customers such as Addo Foods, Nature's Way and Winterbotham Darby on board, in the first eight months of the partnership, 371 pallets of food have been collected from 22 sites. This equates to a total of 213 tonnes of surplus product that has so far provided over 500,000 meals for vulnerable people. Without this partnership, the food would have been sent to landfill where it would have produced the equivalent of 40,470kg of CO2.
Mark Varney, Director of Network Development for FareShare explains how the partnership with Fowler Welch has not only provided meals, but has also made a number of companies aware of the work that FareShare do, and encouraged them to get involved.
Since we launched the scheme in August 2016 with Fowler Welch, we've developed 18 new partnerships, including Addo Foods and Dairy Crest, and between those 18 companies we've received enough food for over a million meals, which we've been able to distribute to the front-line organisations that we support.Mark Varney